We've pretty much got all the basics covered for baby number two (plus having another girl helps eliminate a lot of buying new stuff, too!), but with the baby gear world constantly improving, there's inevitably some new items on the market that I can't wait to put to use.  So, in addition to the items we still have from Anneliese's registry, here's my wish list for Baby G #2.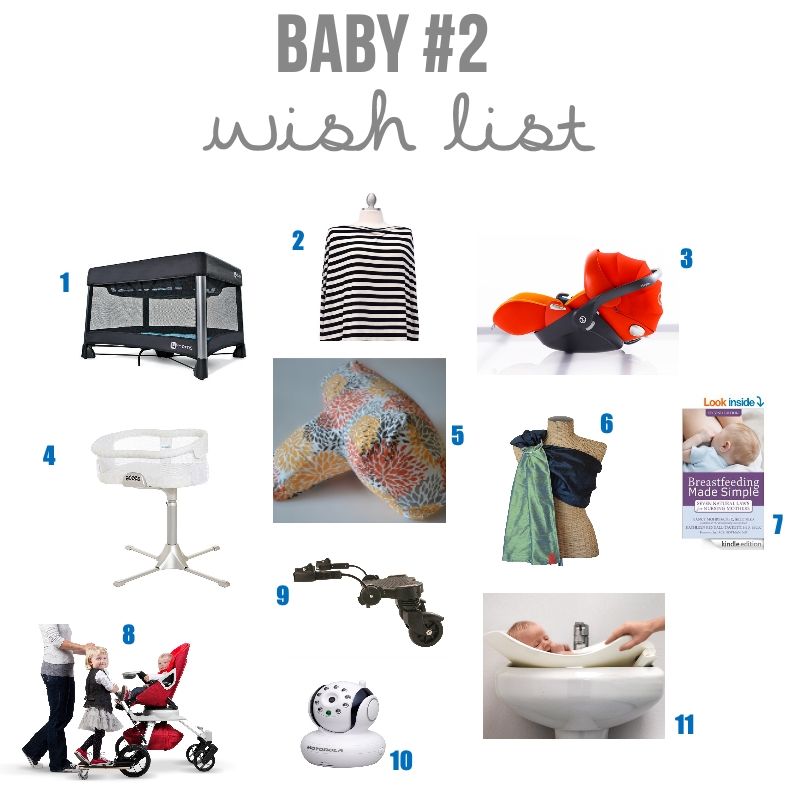 1. 4Moms Breeze–  We actually don't own a pack 'n play!  We always borrowed my sister's or used our Phil & Teds Traveller.  The Traveller is great for airplane travel (or anywhere you need a light, small crib), but is sort of a PIA to put together for short stays (i.e. naps or overnights at Grandma's).  And since my sister is having a baby the same time as me, we decided it was time to invest in one of our own.  If you're like me and wait until baby is already past the point of nap meltdown to set up your pack 'n play, a crib that takes 10 seconds to set up is worth it.  My only complaint is that it's a little heavier than most pack 'n plays, but we won't be using it for anything but car travel anyway so it's not a huge concern to me.
2.  Covered Goods nursing cover–  I love that this nursing cover is stylish (it doesn't look like a big sheet!), and offers full front AND back coverage.  Bonus: you can drape it over your car seat and use it as sun/germ protection!
3.  Cybex Cloud Q car seat–  I'm REALLY hoping this car seat is released by the time #2 is here.  I saw this at the ABC Kids Expo this past September and even though I was only 6 or 7 weeks pregnant at the time, it was the one thing I knew I'd be buying for the new baby.  The Cloud Q has all the same safety features of the current Cybex Aton Q infant seat that makes the car seat tech in me giddy (load leg! telescopic linear side-impact protection!) but the new Cloud Q adds another great feature that solves the "how long should I leave the sleeping baby in the car seat?" question (answer: only during essential car travel!).  It is the first ever infant seat that (when used on a stroller) can recline completely!  See exactly how it works here.
4.  Halo Bassinest–  When we brought Anneliese home from the hospital, she lasted roughly 2 days in a Rock 'n Play next to our bed before we moved her to the crib in her room.  The angled recline of the RnP coupled with me waking up at every. single. noise she made, I quickly decided the crib was a better option.  But this time around we also have another child to worry about waking up in the middle of the night.  But I didn't exactly want the new baby sleeping in our bed with us, either!  Enter the Bassinest- baby can lie flat in it, it swivels 360 degrees, and we can move it as close or far from us as we want while baby still has her own safe place to sleep!  Plus I found one in practically brand new condition on Craigslist.
5.  ShugaBebe nursing pillow–  I also came across this at the ABC Kids Expo and loved the idea of it.  I tried the Brest Friend pillow with Anneliese and hated it.  It was hard, way too big for a newborn (which is when you really need a nursing pillow) and I found myself throwing it on the ground half the time.  I love that you can adjust the firmness of this pillow, and that it doesn't wrap completely around your body.
6.  Sakura Bloom ring sling– I was specifically looking for a something I could use to baby wear starting at the newborn stage.  I found Ergo type carriers are great starting around 4-6 months to toddler age, but I wasn't loving them for the newborn age.  I tried a wrap a few times with Anneliese when she was really little, and although it worked fine once I got her in, the fabric drug all over the ground while I was putting it on and it was not quick by any means.  A ring sling seemed like the perfect solution, so needless to say I'm excited to try this type of carrier this time around!
7.  Breastfeeding Made Simple–  I made it no secret that breastfeeding Anneliese was stressful and I gave up way sooner than I should have.  I was convinced she was not getting enough milk and quit about 2.5 weeks in.  However I soon realized how much work bottle feeding is (I'm having flashbacks of washing ten million bottle parts every night), not to mention the nutrients only breast milk can provide, so I am determined to make it work this time around.
8.  Orbit Baby stroller–  The sidekick board is the #1 reason I got this baby.  It's the only stroller that allows a rider to stand on the side of the stroller, which is great for us tall people with long strides.  Anneliese only rides during long outings, and isn't even a full time rider some of those times.  So I'm hoping to get away without a full double stroller (and even if she does need to sit, I can always baby wear the newbie and put her in the stroller seat- we won't be using the car seat that Orbit offers).
9.  Valco Hitch Hiker–  This is the stroller board we'll be using for our other strollers (Bugaboo Bee+ and Baby Jogger Versa).  It sits up higher than most stroller ride on boards which allows you to place your foot underneath while walking (which is way better than a stubbed toe every other step!).
10.  Motorola MBP36 camera–  We already have this baby monitor with one camera for Anneliese.  I've debated on whether or not I really need a camera in both girls' rooms, but it's nice to be able to spy on Anneliese when she's playing in her room too, and since our monitor allows for two cameras, why not?!
11.  Puj Tub–  I figured we'd just use the standard big blue plastic tub we used for Anneliese in our kitchen sink, but then I had a reality check and realized we won't have 30 minutes and four hands to bathe the baby every night, and the idea of being able to wash her in the bathroom sink while Anneliese is in the tub seemed genius.